Describing Cracovian eating options would take a book, however, we can try to point out a few of the most interesting places in this article.
Traditional Polish cuisine is quite eclectic and has been influenced by other nations; such as German, Hungarian, Russian, Austrian, Tatar and also traces of traditonal Jewish influence. So is food in Krakow.

If you are planning eating out n Krakow and want to taste some real Polish cuisine in the Old Town, visit Restaurant Pod Baranem.
This place maintains a traditional character, which is ensured by vintage furniture, wooden ceiling, brick walls, rugs on the floors, plants on window sills, as well as linen tablecloths.
Complementary bread and smalec (pork dripping) begins the authentic dining experience. Why not try venison and wild boar game? The place is popular among the tourists and locals – due to its class,
cozy and warm atmosphere,
along with its affordable prices.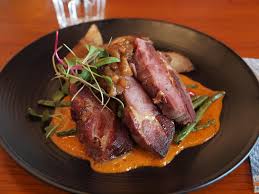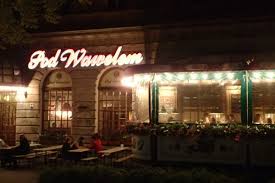 Just in front of Wawel Castle
Another hot location very close to the main Market Square and Wawel Castle is Pod Wawelem Kompania Kuflowa (26-29 św. Gertrudy Street). This is an inspiring experience, not only due to its culinary values. They clearly follow the Galician tradition - as this area in 19th century was known as "Galicia" - the period of autonomy within Austrain-Hungarian Empire, still treated by sentiment by many.
The place offers a loud bustling environment - however there is spacious childrens play area separated from the rest of the customers - with plenty of beer and decent portions of traditional Polish food and other regional favorites. So why not to try huge schnitzels, pierogis, potato pancakes with smoked salmon, and herring with potatoes.
On certain days there are special promotions,- for example half priced mussels on Tuesdays.
Quite often you can meet tourists or locals celebrating with family/friends. If you like beer this is a place for it - however you can expect something bigger than a pint! After dinner you may be served complimentary cherry vodka or other liquer prepared. in the restaurant.
Another place worth visiting is Czarna Kaczka (Black Duck) at 22 Poselska St. It is not easy to catch a place here so rather book in advance. The menu is duck focused with some other specialties. Try for example duck pate, Cracovian duck and carrots/horseradish, excellent goulash or the spicy duck dumplings. You may expect a complimentary plum vodka shot.
Milkbar Tomasza is not what a typical "milk bar" used to be in Poland 30 years ago. Subsidized, extreamally cheap eateries, gathering university students, pensioners and other poor citizens are rather melody of the past. This one at 24 św. Tomasz St. is still relatively affordable but much more sophisticated. Great for breakfast & brunch, some say it is "fancy milk bar". Breakfast selection is rich, food of top quality. Unfortunately seating (communal) is limited, it's possible you'll have to wait. Anyway it is still one of must-eat places in Krakow. Apart of breakfasts dishes – why not to trys Spanish omelette? - they offer quite good coffee, hand-made and inexpensive.
"Czarna Kaczka" or "Black Duck"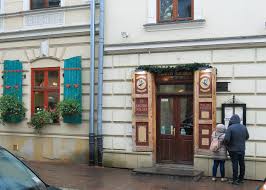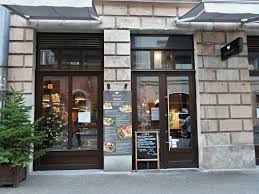 Not far form there is Restauracja Sławkowska 1 - just around the corner from the Main Market Square. Before you order, bear in mind that portions are large. You can have both Polish food here as well as international classics – like highly recommended steaks, wienerschnitzel or ribs. Besides that of course Polish pierogis and for the starter cream of potato soup or Fisherman's Pot. However, as they say "the restaurant was created for those, who love meat". You can wash it down with something from a great choice of wines from around the world and beers from local breweries. Menu quality is kept high by Jan Kościuszko, founder of famous Chłopskie Jadło restaurant chain, and rally driver.
Want to try a quality steak or burger? Go to Moo Moo Steak & Burger Club at. 15 Świętego Krzyża St. Remember that 400 g burger is really huge especially if you have chips and cream spinach on the side.
Some maintain in reviews that in this place they had the best burger they ever had. But it is not only meat. Another highly recommended dish is sweet potato tenderloin soup. They serve really fast so you are left with enough time for a dessert too, even if you are on a busy sight-seeing tour. It is not typical for a burger place to do reservations, but this one is a top class, so it is adviseable to call them before.
Although burgers and steaks are rather not typical Polish dishes, nowadays you will find more places like this. Others from top of the league are for example Ed Red, Pimiento, Rzeźnia Ribs On Fire, Barbeque, Steakhouses, Burgers Kazimierz, Moaburger, Burgertata etc. All of them in the Old Town or Jewish Quarter Kazimierz.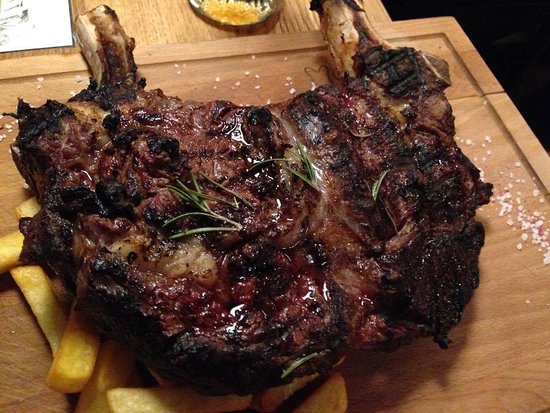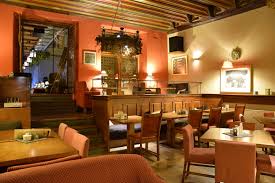 Completely different place, with a theme based on something traditional in Poland although today forgotten by many Poles is Dobra Kasza Nasza. "Kasza" is a Polish word for "buckwheat" and this is basically what it is about. However, you cannot believe how many options of dishes you can creat with this simple ingredient. And they are rather healthy dishes – which doens't mean boring or tastless... as it sometimes happens with "healthy" options... Buckwheat is a very good option when you feel the need to detox your digestive system and it doesn't contain gluten. Beside that dishes here tend not to be greasy. Most of them don't contain dairy product.
The place looks great, very well decorated, spacious, chilled. The service is fast and attentive and the food is incredible. Take for example the Bacon with dried plums for starters, followed by chicken with onions baked with buckwheat or millet groats with pumpkin and turkey. Or perhaps pork tenderloins in mushroom sauce? You may wish to try an apple crumble and barley soufflé or classical cheescake for desert.
And yes, they have pierogis too! But maybe let's pay a visit to one of the places that specializes in this favourite Polish dish? One of the top spots here is Pierogarnia Krakowiacy at 23 Szewska St. A great selection of traditional Polish food is available here with very professional staff who are very helpful when you are looking for different culinary tastes. It is self-service with a charming interior and the hostesses wear nice flowers in their hair. There are 10 pierogies per order so arrive hungry. For a drink they serve among others homemade lemonade. Some say that this place has the best pierogis in Poland. The dumplings are a main theme here but they offer other dishes as well like highly recommended hunter stew.
Other pierogi restuarants in the same league would be Przystanek Pierogarnia, Pierogis, Pierogowy Raj, Pierogis, Breakfast & Brunch, Przypiecek Krakowski etc. All good, all in the centre of the city.
Pierogis - a cornerstone of Polish cuisine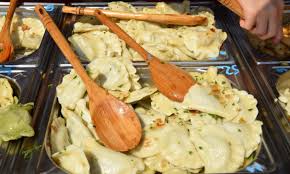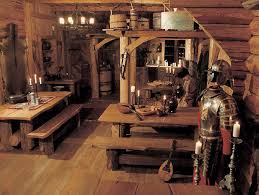 Still staying within Polish-Lithuanian Commonwealth tradition let's move to the other bank of Vistula river. There, in the old part of Podgorze district, you will find Ogniem i Mieczem (With Fire and Sword – after the title of famous Polish historical novel) at 7 Serkowskiego Square. You may feel like you've travelled in time to a 17th century restaurant decked out in thick wood and stone with a hearty fire, sometimes with a pig gently roasting over it. There is even a wooden well and and a little cannon on the front yard.
To keep up its authenticity it's decorated with wheat sheaves, old weapons, wooden tools and spinning wheels. Sit on wooden tables with thick candles to complete the look. Try the barszcz soup and sledz which is pickled herring followed by "Pół metra żebra" ("Half a metre of ribs") which you have to order in advance or "half kilo" of turkey cutlet with spinach and cheese for two or maybe grilled sirloin with bacon and brandy-pepper sauce. Wash it down with enourmous beers (Poles tend to drink quite often from 1 litre glasses) or maybe complimentary "krupnik" liquer at the end.
We presented only few examples and from traditional Polish kitchens, but those who prefer may choose from a variety of restaurants, snack bars or even food trucks offering local dishes as well as Indian, Far and Middle East, Italian, American and Fusion etc.