Nowadays the former capital city of Poland is not only famous for its historical monuments and museums but also for the wide variety of bars, pubs and clubs. Annually, they are visited by locals, about 120,000 students and crowds of tourists all year long. So what is there to do in Krakow at night? You will find there various types of music and forms of entertainment. The busiest area at night is of course Old Town and Kazimierz (Old Jewish Quarter), although there are interesting places in their neighbourhood as well.
They are situated in medieval houses and their cellars, offering a variety of drinks (a pint of beer for only ten zloty! ) and attractions and they play different music genres.

There are clubs that cater for every taste and one of the biggest players on Krakow's nightlife map is Prozak (Plac Dominikański 6). Actually, what you visit nowadays is a reactivation of the original venue, which was once the oldest club in Krakow. This underground-style place can be proud of it's top quality sound system and the world quality service. The club is visited frequently by the best producers and DJs from around the world, it occupies 600 square meters and extends over three levels of historic building.


Lokal Krakow (Rynek Główny 6) comprises of three bars, two dancefloors in a medieval cellar with high vaulted ceilings, and there is different DJ every day. It's located on the main square of the old town, so there is no way you won't be able to find this place. They offer not only great music but also decent pizza, not mentioning rather affordable drinks. If your favourite kind of music is r'n'b, hip-hop and dance music, then this is the place to gp.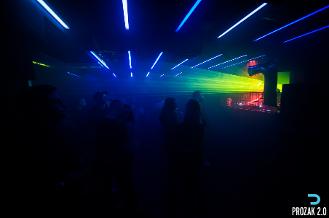 And if you think that's not fun enough, it is near to other popular venues like Frantic (Szewska St.) also one of the oldest clubs in the city, famous for its theme parties and respected Djs playing high-level music. Over the past seven years, Frantic has hosted such famous people like Steve Angello, Jamie Lewis, Martijn Ten Velden, Copyright, Sergio Flores, Jay Sebag, Yass, David Penn, Rae, Chocolate Puma and many others.
They have a second room for hip-hop, and usually the club is ram-packed from Thursday to Saturday. The place is known for its selected clientele, excellent service at four bars, air-conditioned interior, minimalist decor and VIP room.


Just next door you will find
Shakers
club. Not the biggest venue but still stands out with a modern interior, cosy leather sofas, screens on the walls and energetic music. They have different offers for every day of the week. On Mondays you can feel like you're at a house party, on Tuesdays you will enjoy lower prices and Fridays have special offers only for ladies. The music ranges
from funk to electro.
Some say that Shine Club, little bit further from the Main Square (Starowiślna 16) is the best looking club in Krakow. At least it seems to be very well planned and designed. And what is important it is very affordable - what doesn't mean it is for everyone. There is a wide selection to choose from at the entrance, however there are some restrictions e.g. the guests must be well dressed and they won't let you in if you had too much of a drink. On the bright side, the place is spacious, there are three dancefloors with three decent bars: EDM/House main big one, RNB/pop/hip-hop second next to it and third latino/spanish music upstairs.


If you'd like to try partying in Polish retro style, visit Społem Deluxe (Floriańska 53). For some it may seem to be really exotic due to its old-style, retro interior taken from the Polish Peoples' Republic times. Even the DJ hides in an old car called Nysa. But you will have fun during this interesting journey back in time. There are colorful lights and walls, nice drinks and a lot of Polish music and disco.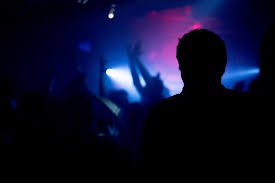 Dance music - yes, but also...
One of most poular cellar bars (or "piwnice" as they are known in Polish) is Piec Art (Szewska 12). This place hosts frequent jazz nights and it has attracted some of the biggest jazz players in the world on stage! The upstairs coffee and whiskey bar is another advantage, featuring the longest bar in town, with a sandwich bar and silent films flickering on the wall.
Carpe Diem (Floriańska 33), The Legends Music Club (Plac Szczepański 3) and the Tower Pub (Mikołajska 26, again 14th century basement with medieval frescos on the wall) dish up something to the rock kids (some complain it's too loud); and if you want a true Polish experience, check out a ragga party at Art Klub Błędne Koło (Bracka 4), which by the way also hosts some pretty wild electro parties, normally on Saturdays.
If all that isn't enough to keep you entertained in Krakow then stroll down to invigorated area of Kazimierz. The old Jewish Quarter years ago gained a reputation of a trendy area for the students and artists and it still becomes more and more popular among the international crowd. The majority of the best venues can be found in and around the Plac Nowy. The top one that is surely always trendy is Alchemia, a bar with entrance through a wardrobe closet and many tight rooms filled with old furniture. It also hosts various concerts and performances in the shadowy depths of its downstairs.

Yes, it is quite popular to dance to a club music although in the older quarters of Krakow there are many of those who prefer to visit a pub, bar or listen to rock or queiter jazz music – like at Harris Piano Jazz Bar on the Main Square Market – once appreciated by the British Guardian and ranked among the best jazz clubs on the old continent! Simply, different types of music are on equal terms in the old Polish capital, just like in other cities and resorts of this country. These types of places are relatively free from tourists and attract a young academic crowd. So one can visit one of Krakow's 'alternative' venues, for 'alternative' people. There are hundreds of them...
Karaoke & evergreens
If you would like to try some singing on your own then why not to visit Cocktails & Songs, again in Jewish Quarter (Joselewicza 21B) you will of course have a chance to taste delicious cocktails, but it is also one of the best karaoke in whole Krakow. This is an interesting option if you came on vacation with friends as you can organise here also a private karaoke party. Very nice atmosphere and lovely owners. It is worth to follow their Facebook profile and look for some special offers and events.

At Coyote Bar (Św. Tomasza 1), every day, you can sing karaoke or dance to the music from the 70s, 80s and 90s. It encourages guests that want attractive discounts and a nice atmosphere. Another advantage is the cosy garden, perfect for relaxed meetings.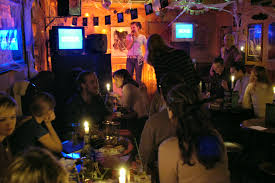 The
Legends Music Club
(Plac Szczepański 3) offers four days of karaoke with all-time hits. You will find karaoke here on every Sunday, Monday, Tuesday and Wednesday. If you are a fan of The Beatles, Elvis Presley, Boney M and Ace Of Base you can meet others in a nice atmosphere and party until morning. Although Krakow is full of clubs and bars, th
is place is unique on the map of the city's nightlife.
Another advantage of the club is its affordability, one cannot complain on prices especially comparing to other places in once cheap, currently bit more expensive former capital of Poland.
Louis Music Club & Pub (Rynek Główny 13) is an intimate venue in the Gothic cellars of a fancy shopping centre which offers different type of entertainment depending on a day of a week. This club is especially popular among over-30 locals and internationals for its casual atmosphere, affordable and unique cocktails (frequent visitors recommend vodka shots with strawberry mousse) served by the friendly bar staff. Monday and Tuesday nights are karaoke magic (start at 20), Wednesdays host salsa (21.30), and the weekends are for wild parties when DJs play contemporary dance hits to an energetic crowd of locals and foreign tourists.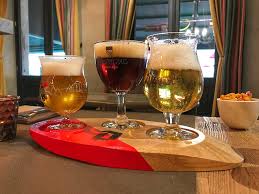 And something completely different
This exceptional place belongs to Uniwersytet Rolniczy (Kraków's University of Agriculture). Strange? Not, if you realize that
Klub Buda
(Czapskich 2) is currently a
clubhouse of Kraków School of Brewing (KSB) - one of the only programmes in Europe offering a BSc and PhD in beer brewing.

However the rich history of this space dates back to the 1950s, peaking in the 70s during the residency of the legendary Kabaret Pod Budą (whose founding members still take their tipples here). Recently the place re-opened as a pub which is the exclusive distribution point of KSB's own ales (in addition to the bounty of bougie bottles in the fridge). Mingle with malt masters, old-guard academics and students from the upstairs dorms during their frequent social events, including karaoke (every 2nd Friday), English Quiz Nights (every Weds), milongas (every second Tuesday), open mic, jam sessions and concerts (check their FB page to see what's on).
In Krakow, they have even a sailors' bar!
Stary Port
(The Old Port) is famous throughout the country among amateurs of sailing and just those just fond of shantie music for its improvised drunken singalong parties and official concerts. This candlelit ship-in-a-bottle is packed full of seamen (surprisingly – there is quiet a lot of them in Krakow, a few hundred miles from the sea) and students of nearby univeristies who often become sailors attracted the atmposhere of the place and Krakow's yearly Shanthies Festival. You can sing and drink long after midnight, particularly Thursday to Saturday and it is easy to make friends at Stary Port.
Under the arcades of ul. Krakowska you'll find rather different although still friendly climate. Relatively new pub with an old soul called
Don Chichote
. The place offers typical Cracovian atmosphere which is not so easy to find in the era of trendy pubs, energetic dance clubs and posh cocktail bars. Well, Cracovians are known for not spending their hard earned money easy, so maybe that's why you can get on the cheapest pints in close proximity to the Old Town. And it is in well designed interior containing rickety curbside antiques, dark curtains and fringed lampshades. The place is visited by locals and international guests – being located not in a the Old Town but on the way to Jewish Quarter. On Thu-Fri nights they are live bands on the tiny stage.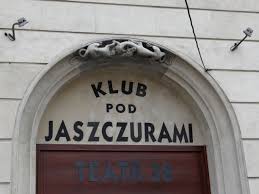 And last but not least – famous
Klub Pod Jaszczurami
(Rynek Główny), the oldest students' club in the city, it existed back in the days of communism. Some say even Fidel Castro drank at this place. The club was also known once for great jazz concerts. Things aren't the way it used to be, of course. For some place may seem to be bit outdated but you can still feel real atmosphere of Krakow nightlife "as in the good old days". Nowadays you can choose between karaoke, dancing (Retro Disco Party), concerts, poetry reading, politcal debates etc. For others it's the best place on the Main Square to sit with a pint and people watch. Directly behind the 11th century St. Adalbert's Church, you can also easily hear the traditional hourly trumpet call from the tower of St. Mary's Basilica.
We listed above some known places but it is only a fraction of rich Krakowian nightlife offer. Huge variety of Krakow's dance clubs, pubs and "vodka and shot" bars will impress you and make your night unforgetable. If you believe urban legend Krakow has the highest density of bars in the world. The fact is hundreds of bars can be found in cellars and courtyards stretching from the Old Town to Kazimierz and beyond. There is something for every taste and you can try different places for each night of your stay – even very long one! Nightlife in this city never stops - while the opening formally exist, in practice when people are drinking, the barman is pouring.